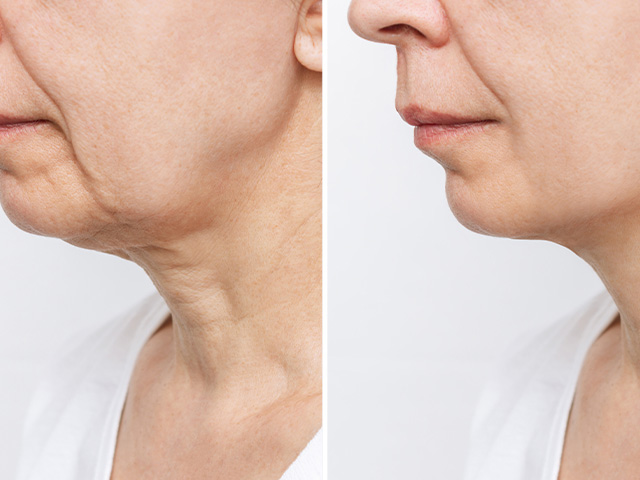 Blog

What is Neck Lift surgery (Platysmaplasty)?
Neck lift surgery is a surgical procedure in which the entire neck skin and muscle tissues are stretched and excess tissues (subcutaneous fat i.e.) are removed, in order to correct wrinkles, sagging and loosening in the neck area.
The surgery can be performed alone or combined with other aesthetic procedures like face lift, blepharoplasty, facial fat injection, Botox and filler applications, to achieve more successful results.
Who is a candidate for Neck Lift surgery?
Best candidates for this procedure are non-smokers who are in good general health and have realistic expectations for the outcome. Sagging of the neck may be age-related, but it can also be the result of significant weight loss or genetic predisposition.
Those who have sagging or wrinkling in the neck and loss of distance between the neck and chin can benefit from neck lift.
How is Neck Lift surgery performed?
The procedure is performed in the operating room under general anesthesia in 3-5 hours on average. Typically it will start with incisions from the front of the ear, under the earlobe, behind the ear, and then moving into the scalp. Excess skin and fat are removed and muscle tissue is intervened to give the desired shape to the neck. Good news, some portion of the sagging on your face will be also eliminated with this surgery.
The neck area can also appear drooping due to excessive fat around the jowl. If you're young and have such a case, liposuction procedure performed on the jowl area must be evaluated instead of a neck lift.
Postoperative Period
4-6 hours after the operation, you can begin to feed and walk. Drains placed during surgery are usually removed 1-2 days later. After the surgery, there may be mild pain that can be easily managed with painkillers.
The bandages made after the surgery stay for like one week. You can return to work life within 1 week – 10 days after surgery. The bruising and swelling will disappear within 1 week. Avoid direct exposure to sunlight, especially in the first 10 days after surgery. You can start long walks after 2 weeks. During the first 4 weeks after the operation, sports that will force your neck should be avoided.
The healing process of bruises and swellings after surgery is very related to your skin structure. It generally lasts for 1 week, then gradually decreases and disappears. In order for the swelling to go down more quickly, ice should be applied as recommended by your doctor.
The scars will be hidden in front and behind the ear after the surgery, and they won't be very visible. In a period of 6-12 months, they will be almost invisible.
Neck Lift price
The prices vary depending on the region and hospital. However, Turkey is one of the best options around regarding the price, success rate and transportation options.
If you have any other questions about neck lift in Turkey, feel free to reach us anytime. We will be glad to give you a free consultation in Dr. Ada's clinic.