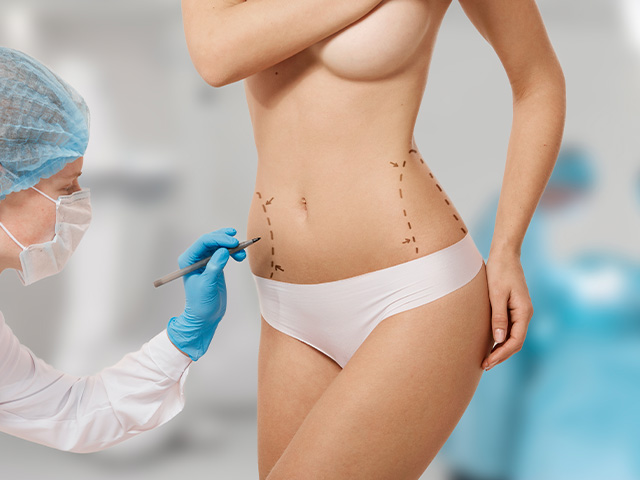 What is Liposuction?
Liposuction is the surgical method to remove the excess fat tissue and give the body a better shape, for people who can't get rid of them through diet and exercise. It is one of the most applied aesthetic operation types. Liposuction is especially applied to stubborn areas such as hips, belly, thighs, buttocks, back, arms, and under the chin or face to improve their shape. It is applied by vacuuming and removing the fluidized fat tissues through 1-2 mm incisions with thin and long cannulas of 2-3 mm in diameter.
Who can go under Liposuction?
As in any surgical operation, a specialist doctor's opinion is required in this procedure. Liposuction is not a slimming or a cellulite erasing method. It is only a surgery that provides regional thinning. A good candidate for liposuction is:
– At good general health condition.
– Not smoking.
– Have firm and elastic skin.
– Within +30% of his/her ideal weight
So if you have a weight problem other than regional ones, it would be more appropriate to first get rid of your excess weight by applying a controlled diet and sports program, and then go for liposuction.
Types of Liposuction
The most common technique is Tumescent liposuction. In this method, your surgeon will injects a sterile saline solution into the area where the fat is to be removed, along with lidocaine and epinephrine. The solution will make it easier to suction the fat with minimum pain and blood loss.
Another technique is Ultrasound-assisted liposuction (UAL). This method uses the energy of sound wave under the skin to break down the walls of fat cells. This liquefies the unwanted fat so it can easily be suctioned out.
Laser-assisted liposuction, which is also known as SmartLipo, makes use of a newer technology. In this method, fat tissue is liquefied by a burst of energy supplied by laser.
Recovery after Liposuction
After the operation, special corsets should be used for approximately 4 to 8 weeks, depending on your doctor's advice. Edema and bruises are expected to be seen but they will go away in time. One week after the procedure, the sutures are removed, and after 1 to 3 weeks, the patient can return to work and daily life. Moderate exercises will be possible 3-4 weeks after the application.
Difference between Lipolysis and Liposuction
Lipolysis methods are non-invasive procedures directly bursting the membranes of fat cells with the application of different waves (laser, ultrasound, etc.). Just like in liposuction, lipolysis will allow you to get rid of regional excess fat.
The main difference between lipolysis and liposuction is the way liquefied fat tissues are removed. In the liposuction method, the fat tissues are removed from the body by vacuuming through cannulas, while in the lipolysis, they are excreted through the urine. For this reason, liposuction is preferred in cases where the adipose tissue is too high to be excreted with urine.
Do you have more questions about Liposuction?
We are aiding you with any aesthetic surgery in Turkey. Moreover, we are medically following you both before and after your operation. So if you have any questions about liposuction, feel free to contact us. Let Dr. Ada's clinic start your unique experience now.