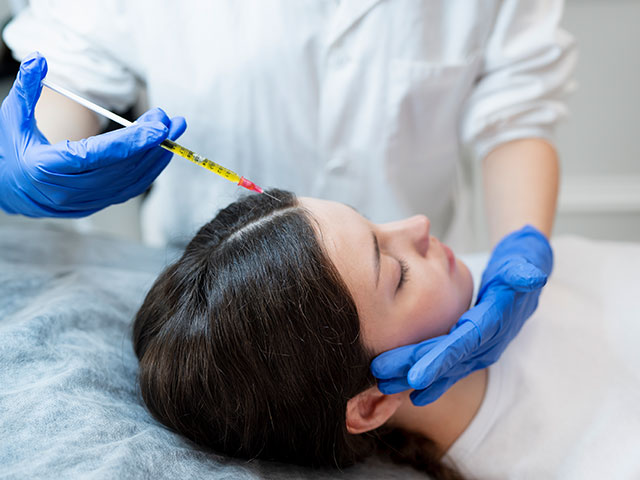 What Is PRP Treatment?
PRP (Platelet Rich Plasma) is an organic mixture obtained by separating the plasma out of blood. The process of returning this organic mixture to the body by injection is PRP treatment. This plasma is very rich in cells called "platelets". Platelets, main task of which is to help blood clot, have an important role in wound healing thanks to the growth factors they contain.
In Which Problems Is PRP Treatment Used?
PRP treatment, in which cells called platelets play the leading role, has found use especially in orthopedics and dermatology. Today, PRP is used in non-healing leg wounds due to diabetes and varicose veins, tendon injuries and tendonitis such as tennis elbow, wound healing process after dental implants, hair loss and skin-related cosmetic applications.
What Are The Benefits Of PRP Application?
– Brings elasticity and healthy look to the skin
– Slows down hair loss, strengthens hair
– Reduces wrinkles on the skin
– Reconstructs the skin against wounds, cracks and various other damages
– Provides skin regeneration after procedures such as laser
– Accelerates healing in medical aesthetic applications in areas such as face, hands and arms, inner legs, neck and décolleté
– Reduces various pains
Hair Loss Treatment with PRP
Hair loss of more than 100-150 strands per day leads to baldness over time. PRP provides successful results in the treatment of hair loss. The platelets in PRP nourish the roots and strengthen the hair. This method is especially effective in genetic hair loss.
Skin Rejuvenation with PRP
With time, elastin and collagen decrease in the body and the skin loses its firmness. The substance that can repair such damage in the most effective, fastest and most natural way is the organic compound that the body produces itself; which are the platelets within PRP. For this reason, it is used to treat aging issues.
Skin rejuvenation with PRP is commonly considered for face, neck, décolleté, hands, inner thighs and arms. It is possible to provide rapid restructuring of the skin, especially immediately after applications such as laser and peeling.
Pain Management with PRP
Growth factors and proteins in PRP are substances that reduce the inflammatory process and pain, and also help tissues heal. Successful results can be obtained in musculoskeletal injuries and inflammatory diseases with PRP treatments. PRP can be used in the treatment of shoulder pain, ligament injuries, meniscus regenerations, joint calcifications and ankle sprains.
Reach the Experts for Best Health Service
We are a dedicated team of professionals, supplying Romanian people with best doctors of Turkey in world renowned Turkish hospitals. From coroner surgery to obesity surgery, and gynecological procedures to aesthetic operations, we give intensive care and consultancy throughout your medical journey. Besides, we give medical follow-up face to face in Romania till the day you gain your health back.
Call us now and get best health service in Turkey with affordable prices. Let's schedule your health experience now and step into a happier healthier life together.