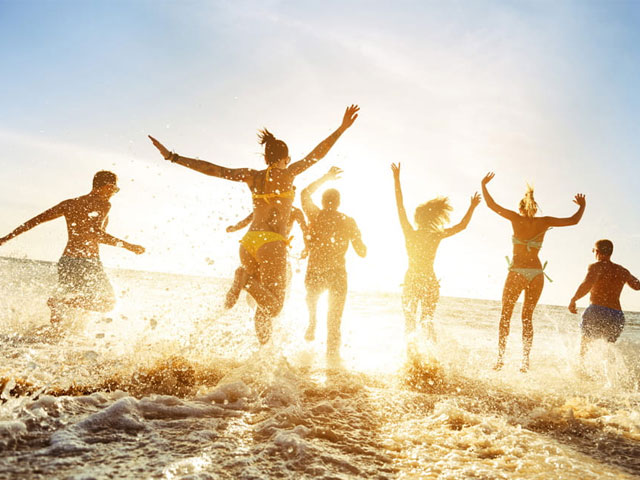 Blog

The 7 Most Fun and Effective Exercises For Summer
Yes, it's very hot in summer and you just want to lie down lazily, chill out and sip your cold drink in your leisure. However a little bit of exercise can make you feel much cooler even in the hottest day. Also, it will prepare you for the long cold winter ahead. Moreover, summer is indeed a great time for exercising because you can spend longer hours outside easily. So, here are the 7 best summer exercises you can do for good health.
Swimming
When it comes to exercising in summer, the best choice by far is clear: swimming. It is a miraculous way to stay cool while you're active, without forcing your joints. This alone makes it a great choice for almost any age, but with a little preparation of course. First, spend some time warming up your shoulder and arm muscles. Then immerse yourself in the cool water and slowly increase your speed. Choose different swimming styles to prevent your body from repeating the same movement over and over again.
Trekking
So, while the weather is warming up, how about a nature walk that will heal both your body and mind? Call your friends and arrange a time to go for a walk together. Exercising with a group will keep you all accountable and make the time fly by. Warm up beforehand with ankle and trunk rotations. Make sure you have the right equipment before you walk. Finally, don't forget to practice deep breathing and mindfulness at a scenic spot during your walk! Breathe in that fresh air and expand your lungs.
Cycling
Cycling is one of the most enjoyable and effective exercise especially when the road is dry, just as in summer days. When cycling, make sure to stabilize your shoulders away from your ears to avoid discomfort later on. Position yourself so that your spine has a slight but not excessive curve. Align your hands, wrists and arms to avoid injuries. Pay attention to the pressure you apply to each foot and leg when pedaling. Most of us have pressure on one side. So use this fun activity as a way to balance your body.
Water sports
Have you ever tried surfing or rafting down an adrenaline-filled river that motivates you to paddle? Although these sports require a bit of fitness, everyone can do them with a little effort. Activities such as kayaking and canoeing are suitable for all levels. Especially if you haven't tried one of them before, it might be good for your body and soul to try something new this summer.
Gardening
One of the wonderful things about gardening is that, like meditation, it can be very therapeutic. It's easy to get carried away and really feel "in the moment". For this reason, it's good to be particularly careful when gardening. Make sure you bend from your knees and lower back instead of your back, and focus your attention on your core. Keep your shoulders away from your ears. Take a deep breath and feel your abdominal muscles contract. Replicate these muscle contractions as you breathe normally. Use your abdominal muscles to support you when lifting weights or making a big effort. Change position frequently, as staying in a low squat for 10-15 minutes can cause excessive stress on the joints.
Outdoor yoga
One of the best exercises for summer is outdoor yoga. Grab a mat or towel and take your exercise routine outside. You can also enjoy the wonderful summer weather while breathing deeply. If you don't have basic yoga knowledge, you can always get help from free videos on the Internet or join a yoga community near you.
Rock climbing
One of the most enjoyable exercises of the summer is definitely rock-climbing. Think back to your childhood days… If you didn't try climbing professionally, did you ever try to climb walls or trees? If yes, you remember how tired you felt afterwards and what a great exercise it was. Rock climbing is indeed a very effective exercise and a pure strengthener.
Call Dr. Ada for Health in Turkey
We are a health service community between Romania and Turkey, and we are always here for a free medical consultation whenever you need information about surgery in Turkey.
We connect you to best Turkish hospitals and top talented Turkish surgeons, and see you in person here in Romania after your health journey. From obesity surgery to In-vitro fertilization, and from cardiac operations to urological procedures, you can always call Dr. Ada's team and get best advice quickly.
Contact us now for a globally affordable health journey to Turkey. Walk the path to a brand new life with Dr. Ada.